Mountain Majesty – the History of CODEP Haiti, where sustainable agricultural development works
Mountain Majesty
Estimates are that 70 to 95 % of Haiti is a barren wasteland with no trees, constant erosion, and land unable to sustain life – plant or animal. Yet, for over 25 years, rural Haitians living in the area directly southwest of Port-au-Prince have been slowly and steadily planting millions of trees in harsh mountainous terrain.
Mountain Majesty is the story of this enormous achievement.
It chronicles the evolution of the Comprehensive Development Project (CODEP) as its members learned the tough lessons necessary for reforestation and the journey to economic self-sufficiency. They had to develop techniques to stop erosion and reclaim land. They had to shift perspective from subsistence farming to long-term thinking. They had to incorporate Haitian cultural nuances to build credibility with the community.
The plan was to complete the project in five years.
Instead, it has lasted 25 and promises to last 25 more.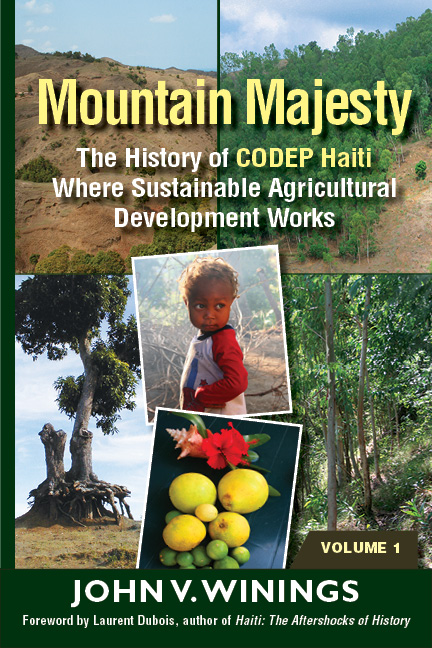 Available For Pre-Order at Dudley Court Press and Amazon!
Autographed By John Winings
Order signed copies directly from the Author. Use the option below.
Who is John Winings?
John has lived for more than five years in Haiti and has worked for Haiti Fund, Inc. for more than ten.  The Comprehensive Development Project (CODEP) project is supported by Haiti Fund and is a successful and unique project in a country where most projects fail.  John has written the first of two books that tell the story of CODEP and its people.  Having worked for fifty years in industry in a variety of positions, he brought just the right touch of experience, compassion, and skills to enable CODEP to become what it is today. A sustainable agricultural development project.